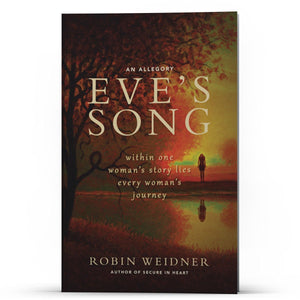 But I wonder...
Is it my song or yours?
Or so one, we cannot
Tell the difference?
It's been a year since her son Cain killed his younger brother, Abel, and Eve is still having nightmares. Adam wants her to move on. Eve senses Jehovah is calling her to revisit her best and worst memories:to the very places she is afraid to go. But how can the mother of the dead and banished become the mother of the living?
Saint Augustine called Eve "the temptress."Tertullian called her "the gate to hell."This groundbreaking allegory offers another alternative Eve, the woman who speaks to all of our sorrows.
Infused with scripture, poetry and sentiments from women of many backgrounds, Eve's Song reaches into the deep places that we, too, are often afraid to go. You will surely find healing and hope as you uncover your own story embedded within the pages of this Book!
Includes: Book group guide, questions for discussion and application, reading list and more!