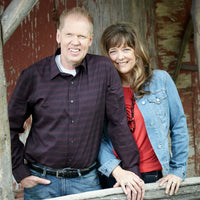 David and Robin Weidner
As the founders of Purity Restored, Dave and Robin Weidner provide role models of the redemptive power of God. Due to early exposure to pornography, Dave learned from a tender age to medicate life's losses ever-escalating avenues of sexual indulgence. Robin also had core losses. Sexual abuse during her childhood, and alcoholism in her family, led Robin to a deep insecurity and addiction to love.
Both zealots for God from a young age, they met at a Christian college with big dreams for full-time service to God. They never dreamed that some 22 years into their marriage, they would face the breaking point of their relationship. Enter the magnificent grace of God. As they both embraced recovery in every form they could find, they began to slowly blaze a new path—a way of seeing recovery that brought individual and marital healing. As other couples, and then churches, began to seek out their help, Dave and Robin sought to bring together the Bible, recovery principles and science to form a path of spiritual recovery.
Dave has a B.S in Biblical Languages and a Master's Degree in Organizational Psychology. Robin's Bachelor's degree included concentrations in Bible, Social Work and English. Their home is in Idaho where they enjoy riding bikes, paddleboarding, camping and spending time with their 3 adult children and one grandchild.
Testimonials
The Weidner's raw openness and fresh biblical insights shine through brokeness to bring clarity and hope. You'll leave Grace Calls anxiously to minister from your wounds.

Josh McDowell, Renowned Christian Apologist and Author of Over 100 Books
"Those who have experienced betrayals and abuse often long for spiritual direction on how to work through the lingering pain. Robin and Dave's words are filled with scripture and a generous sharing of their own profound loss and missteps along the way. I am excited for how many this will help."

Jennifer Konzen, PsyD, Marriage & Family Therapist; Author, The Art of Intimate Marriage
If you can only read one book other than the Bible - this should be it. It's a life changing book wrapped in kindness and compassion. I can't really say enough about it. Some days I could only read a few pages - it's the kind of book you will want to read over and over again to get all the gems within the pages.

Tammy Fleming, Eurasion Missions