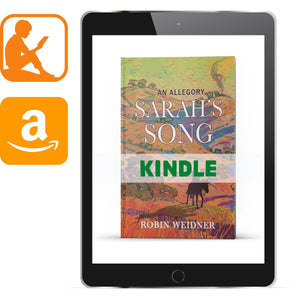 "Heart-changing biblical principles fill the pages!" Sarah awakens to find Abraham has taken Isaac into the wilderness for an unexplained sacrifice. Heartbroken, she ventures after them into the Judean wilderness to protect her only son. Infused with scripture, poetry and Jewish midrash, Sarah's Song invites you to surrender to a God who loves you unconditionally. From Robin Weidner, the author of Secure in Heart and Eve's Song. Includes study questions.
Advance praise from readers
 "Brilliant and captivating, reminds me of Hind's Feet on High Places."
I'm not typically drawn to fiction, even historically based fiction, but I loved this adventure. This beautiful book brings humanity to the characters—fear, panic, anger and doubt. As a mother, seeing her grit to find her child was gut-wrenching.  —Sandra Carr, Artist and  Interior Designer
 "Twists, turns and the 'OMG!' moments you expect."
As a young girl attending Sunday School, I heard about Abraham and Sarah (and Hagar).  The stories felt like felt-board caricatures. Sarah's Song is a page-turning, don't-want-to-put-down book that both thrilled me, frightened me and opened my eyes and heart.  —Kelli Dingman, Administrative Professional, Creative, former Missionary.
 "This book is a healing balm."
This transformative work helped me explore how I am part of God's story of redemption. Walking alongside Sarah was like taking a flashlight to dig deeper into the depth of my own grief, loss, rejection, abandonment, abuse, betrayal, and trauma. —Nicoleta Koha, Preschool Teacher
 "Every woman's story—her fears, regrets, sorrows and unfulfilled dreams."
As Sarah travels dangerous mountain paths searching for Abraham and Isaac, you'll discover her song—a sweet melody coming from the deepest longings of her heart. God's gentle care surprises Sarah, and as I read, I experienced God's grace redeeming my struggle with infertility."  —Diane Mitchell, Senior Developer, Business Intelligence
 "So many parallels between her journey and mine."
Reading Sarah's Song was enlightening. As I traveled with Sarah, I watched her face and overcome her demons, deepen her commitment to Yahweh, and transform her relationships with her family.  —Janice Wright, Educator
"Has changed my relationship with God in a profound way."
I traveled back in time, laughed, cried and saw the dark recesses of my own heart. Not for the faint of heart, Sarah's Song is filled with adventure, and suspense. —Jermiah Jones, Museum Educator Media Specialist, Teacher Librarian
"Heart-changing biblical principles fill the pages!"
Reminded me of the critical nature of walking in openness with the women God places in my life, to strengthen my soul for the battles that will inevitably come. I loved learning about this historical period through Robin's scholarly in-depth studies and creativity.  — Mary Freeman, Admin, Nuclear Technologies & National Security
"His plans are always good…even when it's painful."
Sarah's trust in Yahweh grew throughout her journey to Mount Moriah. At the end, she knew her true purpose in life because she surrendered to his plans. Like Sarah, as Yahweh's beloved daughter, I am most effective when I see how Yahweh sees me.  —Chrep Meitner, Certified Life Coach, educator and mother
​​"I want to follow in the path that brave women have carved before me."
The wonderfully descriptive text transported me to her world. I was living her life with her and thinking about the story during the day. Especially inspiring for me was the realistic depiction of Sarah as an older woman.  —Robin Wadsworth, Performing Arts Teacher for 29 years
"Will leave readers with a sense of longing…"
A deep dive into the life of a female warrior and pillar of faith. Robin's exquisite talent of storytelling comes alive in these pages. It is an epic journey of love, faith, healing and strength that will leave readers longing for a deeper connection with their creator and others. —Jordan Brilhante, Enrollment Representative at the University of Phoenix