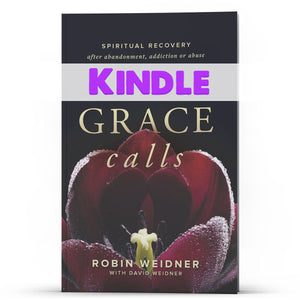 Spiritual Recovery after Abandonment, Addiction or Abuse

A higher path trod by the Spirit
From deepest darkness to sanity
From chaos to God's embrace
Devastation. It comes in the wake of trauma caused by abuse, addiction and abandonment. This trauma can leave us feeling broken, numb and relationally handicapped. Without full healing, these hurts burrow deep into our souls. But when we cut open our wounds and allow them to speak, they point us towards a new vision of spirituality.
Robin Weidner and her husband Dave spent 22 years struggling through cycles of codependency and addiction and emerged victorious. Through twelve years of personal healing and ministering to other's wounds, Robin has unearthed a spiritual blueprint of re-creation and rest.
She invites you to join her on this journey of twelve Stones. As you wade into the cleansing waters of spiritual recovery, you'll find forgiveness, acceptance and rest. You'll leave the journey as a tested spiritual warrior and wounded healer.
"Those who have experienced betrayals and abuse often long for spiritual direction on how to work through the lingering pain. Robin and Dave's words are filled with scripture and a generous sharing of their own profound loss and missteps along the way. I am excited for how many this will help."
Jennifer Konzen, PsyD, Marriage and Family Therapist; Author, The Art of Intimate Marriage
"The Weidner's raw openness and fresh biblical insights shine through brokenness to bring clarity and hope. You'll leave Grace Calls anxious to minister from your wounds."
Josh McDowell: Renowned Christian apologist and author of over 100 Books.