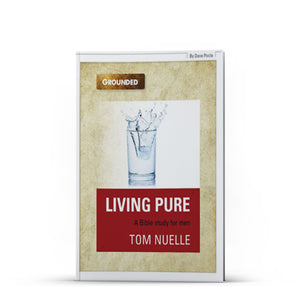 42 Bible studies for men about living pure. Get help and get hope! Deepen your convictions about living a pure life.
Over the years I have had many conversations with Christian men who had concluded that living out God's standard for sexual purity in this world was impossible for them. Many had made gallant attempts to be victorious in the area of purity, yet their lives reflected little or no progress. There best efforts simply did not work.
In spite of perceived hopelessness there is always abundant hope in God! "Living Pure"contains what I believe are the most important Biblical lessons for habitual sexual sin. After personally leading over 50 purity groups meetings these are the lessons that have risen to the top. I have seen hundreds of men set free from enslavement to sexual sin who fully embrace and maintain the lessons contained in this book.
 
We found that the following scripture was true even for the most enslaved among us: Romans 6:17-18 (NIV)  "But thanks be to God that, though you used to be slaves to sin, you have come to obey from your heart the pattern of teaching that has now claimed your allegiance. You have been set free from sin and have become slaves to righteousness."